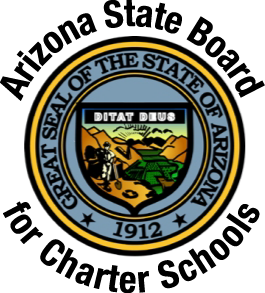 Privacy Policy Statement
Thank you for visiting the Arizona State Board for Charter Schools ("ASBCS", "Board") web site and reviewing the Privacy Policy Statement for the ASBCS web site and ASBCS online database. Pursuant to A.R.S. § 18-202 et seq., all agency web sites of the State of Arizona shall contain a Privacy Policy Statement. This statement is designed to inform our customers about the services and information provided online through the ASBCS web site and the ASBCS online database, what information is collected online, how that information will be used, the conditions under which it may be disclosed, and what steps are being taken to ensure the security of customer data. Your rights to privacy are of utmost importance to the Board in building trust and confidence when conducting business through the Internet.
Services Offered Online
The ASBCS web site provides information about the Board and the work this agency conducts on behalf of the State. The site also provides information and helpful links to assist:
Parents and Public
Charter School Operators
Charter Developers
Log Files
The ASBCS web server automatically gathers certain information about your visit and stores it in a standard log file and web analytics service. Whenever you request a web page through your browser, navigation and other data are collected and stored in a log file and/or database. This information cannot be used to identify you personally and consists of the following items:
The ASBCS web site you accessed during your visit
The web page(s) you visited
The date, time and length of your visit
Your IP address (an IP address is a number that is automatically assigned to your computer whenever you surf the web) from which you access the web site
Your internet browser name and version
Only anonymous statistics are collected and aggregated. This information is used only for internal purposes and is not shared, sold or otherwise disseminated by the Board.
Cookies
To better serve our customers, the ASBCS web site uses "cookies" to ease the flow from page to page in password-protected applications, such as the ASBCS online database. Cookies are simple text files stored on your computer by your web browser. They identify your domain name or Internet Protocol address, as a method of distinguishing among visitors to the ASBCS web site. Cookies are used only by the Board and are not shared with any other individuals, third parties, or entities. Areas of the ASBCS web site that do not require password protection also do not require cookies. You can refuse a cookie or delete a cookie file from your computer system by selecting various options on your computer's browser.
Use of Information
The information you disclose to the Board will generally become a matter of public record pursuant to A.R.S. § 39-121, et seq., which means that the Board may be required to divulge personal information in response to a public records request or in response to a warrant, subpoena and/or other court order.
The Board may have statutory and/or contract requirements to share your information with either the Federal government, State agencies, State contractors and possibly other cities, counties and local governments. This information is obtained in order for these organizations to perform their duties in completing your applications or requests, and therefore, any refusal on your part may be cause for denial of your application or request.
Information You Provide and Alternatives
The ASBCS web site contains an online complaint process and an online contact form, all of which may ask you for personal and/or demographic information or reveal your email address. If you choose to provide us with personal information – by filling out and submitting an online form with your personal information from this web site – Board staff uses that information to respond to your message or request and will send the information provided to the entity to which the complaint is alleged against. We only share the information you provide with another agency if your inquiry relates to that agency or as required by law. Moreover, we do not create an individual profile with the information you provide nor give it to any private organizations. We do not collect information for commercial marketing. Any comments collected are themselves subject to the protections of the privacy policy. Please refer to the submission instructions of the online forms for information on alternative options available.
In addition, there are various online forms available to charter school applicants and operators through ASBCS Online that request personal information.
Security
The Board and its consultants, as developer and manager of the ASBCS web site, have taken steps to safeguard the integrity of its computer systems and networks. These steps include, but are not limited to individual authentication, the security of transmitted data, security monitoring, auditing, and encryption of your information. Security methods and measures have been integrated into the design, implementation and day-to-day practices of the ASBCS web site.
Other External Links Disclaimer
The ASBCS web site has links to other web sites. These links may include, for example, web sites operated by other government agencies, nonprofit organizations and private businesses. When you link to another site, you are no longer on the ASBCS web site and this Privacy Policy Statement will not apply to other sites. When you link to another web site, you are subject to the privacy policy of that new site. Links to web sites outside of State government are offered solely for your convenience. The Board is not responsible for and has no control over the policies or content of any third party sites.
Neither the Board, nor any officer or employee of the Board warrants the accuracy, reliability or timeliness of any information published by this system, nor endorses any content, viewpoints, products, or services linked from this system, and shall not be held liable for any losses caused by reliance on the accuracy, reliability or timeliness of such information. Portions of such information may be incorrect or not current. Any person or entity that relies on any information obtained from this system does so at his or her own risk.
Privacy Policy Statement Is Subject To Change
This policy statement may be updated or revised from time to time, so please check back with the ASBCS web site periodically in order to receive advance notice of any substantive changes to the manner in which the information you disclose on this web site may be collected, used or disseminated.
Contact
To offer comments about the ASBCS website, or about the information presented in this Privacy Policy Statement, please contact [email protected] or write:
Arizona State Board for Charter Schools
P. O. Box 18328
Phoenix, AZ 85009
Main Telephone Number: (602) 364-3080
Main Facsimile Number: (602) 364-3089